Supporting Growth in Katherine East
The Northern Territory (NT) and Australian governments are supporting regional growth and enabling future development in Katherine East.
The Supporting Growth in Katherine East project will provide serviced superlot parcels of flood-free land for ongoing residential, commercial and community purposes.
The future development of these superlot parcels will be supported by the construction of key new enabling streets, development headworks and upgrades to existing roads.
It is a co-funded initiative by the NT and Australian governments under the:
Road Safety Program and
Regional Growth Fund.
This project is in line with NT Planning Commission's recommendations about the Katherine Land Use Plan 2014. To find out more about the Katherine Land Use Plan 2014, go to the NT Planning Commission website.
Get the Supporting Growth in Katherine East fact sheet PDF (1.1 MB).
Major components
The work will be undertaken in two major components.
Stuart Highway duplication
This is approximately 1.3km of highway duplication from the Katherine CBD. It includes:
safety upgrades at multiple intersections and
major stormwater drain upgrades.
Serviced superlot subdivision
This is a staged project to create and service 6 superlot subdivision parcels, including streets and public areas.
It will create the potential future provision of around 300 residential lots in Katherine East after completion.
These works will also enable potential future development of a neighbourhood centre, which can include a mix of retail, commercial and residential land uses.
Major works
Major work that will be undertaken in the area will include:
construction of key new enabling streets to provide new frontage for and access to the 6 development parcels
headworks to support future development and growth in the Katherine East region, and
stormwater drain upgrades to address localised and highway flooding.
Timing
The project is expected to have the following timeframe:
Commenced: Under the Road Safety Program, the Stuart Highway duplication will be the first work undertaken to Support Growth in Katherine East.
Upcoming: The first of the residential development, under the Regional Growth Fund is slated to commence in mid to late 2022.
The anticipated completion of works is by 2023.
Serviced residential parcels from the 6 superlots to be released through an agreed program to be determined, after the project is complete.
Benefits of project
The benefits of the project are to:
enable future development of flood-free community and residential development and provision for potential capped commercial development
support economic and social activity within the area
create jobs, drive economic growth and build stronger regional communities
support both existing and future residents in Katherine East, and
complement the existing commercial and residential areas within Katherine.
Project background
The development of residential, commercial, retail and public open space was a key recommendation of the 2016 Katherine Flood Mitigation Advisory Committee Report.
It was also supported by the Katherine Town Centre's retail and commercial analysis report in 2015. You can read more about the report on the Katherine Land Use Plan 2014 page on the NT Planning Commission website.
It will see serviced land outside of the flood zone, considered flood immune, and developed to meet the needs of current residents of Katherine and its surrounds, and future population growth.
The project will create opportunities to provide a mix of housing, community purpose, commercial and retail uses on superlot parcels of serviced land outside of a Q100 flood zone. The delivery of these future uses will be enabled through the provision of key streets, public open space and upfront servicing headworks.
The delivery of the land for its various uses will be enabled through the provision of key streets, public open space and upfront servicing headworks. Enabling the establishment of a 'Neighbourhood Centre' outside the flood zone will service local shopping needs in Katherine East, help to provide security of supply chains during flood events and will meet the existing undersupply in retail floor space.
The Katherine flood mitigation program includes structural mitigation to provide flood resilience for the town. It also recommended planning measures to provide commercial land outside of the flood zone within Katherine East.
Location
The Katherine East development parcels will be located within Lot 3334, Katherine and NT Portion 7345.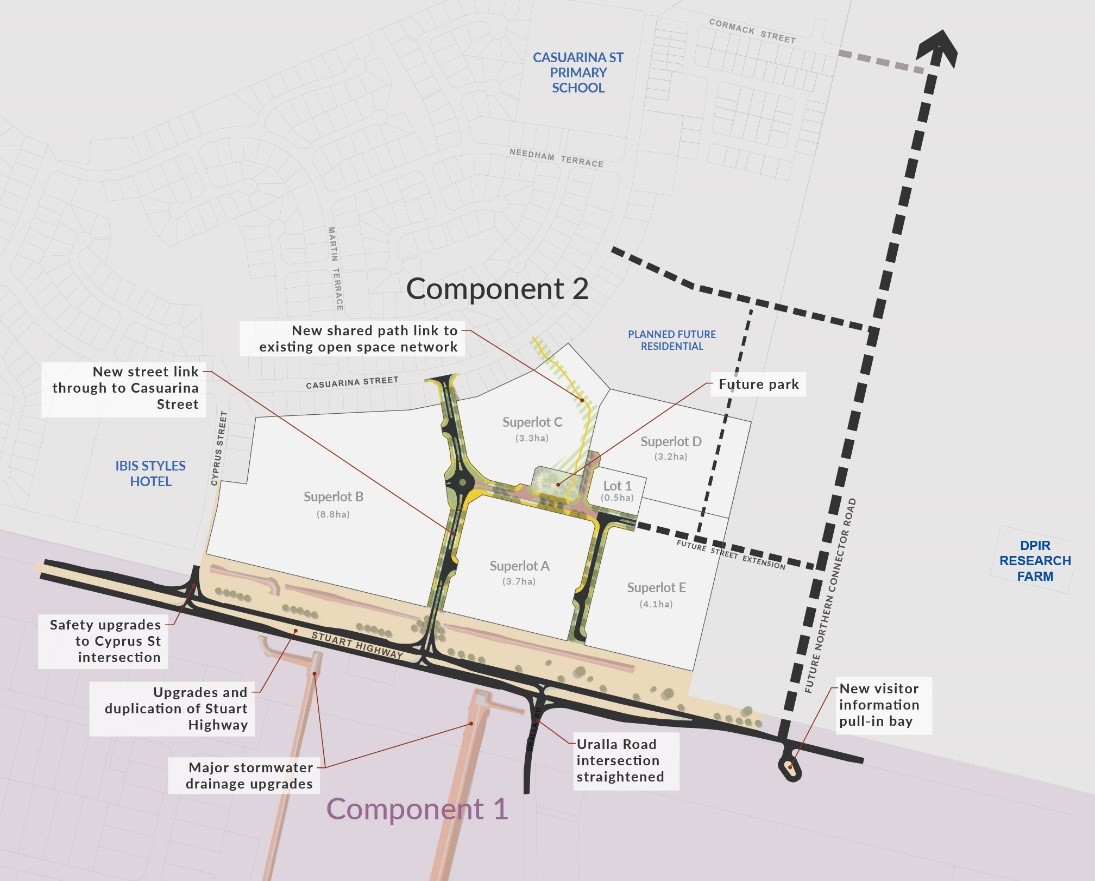 Contact
For more information, email communications.dipl@nt.gov.au
---
Last updated: 11 July 2022
Give feedback about this page.
Share this page:
URL copied!