Infrastructure NT
Infrastructure NT was established in 2021 to deliver strategic infrastructure planning and development that plans for, coordinates and aligns infrastructure needs with industry and population growth.
Infrastructure NT forges strong relationships at the national level with Australian Government agencies and other jurisdictions to champion the Territory's interests and works and with Infrastructure Australia to prioritise, plan and deliver nationally significant infrastructure projects.
The Territory's first infrastructure body represents the Territory in national discussions to ensure our public infrastructure requirements have Commonwealth and broader community support.
Infrastructure NT oversees business cases and concept plans for priority government infrastructure projects, supported by robust planning and stakeholder and community engagement.
Infrastructure NT developed the new Northern Territory Infrastructure Framework that has refocused the previous Infrastructure Strategy and Plan and now includes an Infrastructure Audit and Pipeline.
The new Framework links the investment portfolio to economic growth and subsequently population growth to inform infrastructure planning and investment with the Northern Territory Government's clear goals of a sustainable and diverse $40 billion economy by 2030.
Significant Projects
Infrastructure NT is also responsible for the management and for delivery of significant enabling infrastructure projects and currently incorporates project execution teams for the following projects:
Heads of Agreements with the Australian Government for the enabling infrastructure program including the $2 billion Middle Arm Sustainable Development Precinct.
$440 million Regional Logistics Hubs will create an efficient supply chain throughout the NT supporting industry and employment retention, growth and efficiency, optimising infrastructure investment and growing the catchment area for freight flowing to and from Darwin Port
$400 million Tanami Road upgrade will address the priorities of the corridor for safety, flood immunity, geometry and connectivity
Darwin $400 million Ship Lift common user facility will enable the maintenance and servicing of Defence and Australian Border Force vessels, along with commercial and private vessels, including from the oil, gas and marine industries
$367 million road upgrades in Beetaloo. Roads that have been identified as requiring upgrades in the vicinity of the Beetaloo Sub-Basin include:

Stuart Highway
Buchanan Highway
Western Creek Road
Gorrie Dry Creek Road

$165 million Mereenie Loop upgrade. This project will complete the upgrade and sealing of the Outer Mereenie Loop (Red Centre Way)
Mandorah $50 million new marine facilities will improve and maintain public transport services for residents of and visitors to Mandorah, Wagait Beach and Belyuen
Frances Bay Mooring Basin lock $20 million upgrade, will deliver new lock doors, modernise the mechanical and electrical systems and provide increased protection to help ensure the longer term sustainability, efficiency and safety of the facility
Gunyangara (Gove) Port Redevelopment will improve marine tourism infrastructure as a critical enabler for growth in the tourism industry for the East Arnhem region
Civic and State Square Redevelopment, including the construction of the State Square Art Gallery and development of Liberty Square providing a welcoming green heart of the city, befitting of northern Australia's capital
Adelaide River Off-stream Water Storage to ensure long term water security for the Darwin region
Commissioner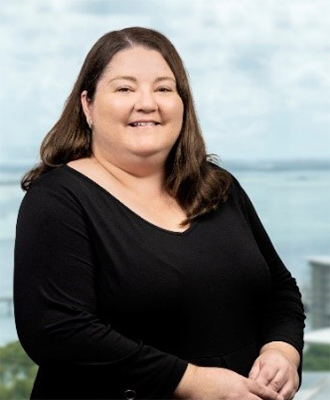 The Territory's inaugural Infrastructure Commissioner, Louise McCormick, plays an integral role in ensuring the Territory plans and delivers the strategic public infrastructure to attract and maintain job-creating projects and industries.
Ms McCormick works closely with the Investment and Major Projects Commissioners to secure and deliver projects and investments.
Ms McCormick, formally appointed to the role in January 2022, is the Deputy Chair of Austroads and a Fellow of Engineers Australia chartered in Civil, Structural and Executive Engineering.
Ms McCormick is the former General Manager of Transport and Civil Services for the Department of Infrastructure, Planning and Logistics and for more than 16 years has led planning, delivery and management of some of the Territory's largest and most complex infrastructure projects.
Ms McCormick was in 2022 named the recipient of the 2022 Roads Australia John Shaw Medal as an industry champion who has made a lasting contribution to Australia's roads. Ms McCormick is the second woman and first Northern Territory-based recipient of this prestigious award for individual achievement.
Contact
GPO Box 2520, Darwin, NT 0801
Telephone: 08 8936 5696
Email: Infrastructure.NT@nt.gov.au
---
Last updated: 14 July 2022
Give feedback about this page.
Share this page:
URL copied!