Transport Planning Projects
Hide menu
Access and safety improvements to the Stuart Highway at Pinelands and Holtze
Access and safety improvements to the Stuart Highway at Pinelands and Holtze
The Northern Territory Government has released a concept design for improvements to the Stuart Highway to enhance safety and access to Pinelands and Holtze.
The Pinelands and Holtze precincts are busy industrial areas southeast of Darwin, where businesses are serviced daily by heavy vehicles and road trains. In 2016, the Department of Infrastructure, Planning and Logistics commenced planning to improve road safety and heavy vehicle access in these areas, to and from Stuart Highway.
Following public consultation undertaken in 2016 and 2017, a concept design has been prepared by local traffic engineering consultant, Tonkin Consulting. The design solution will accommodate future growth in the area maintain an appropriate level of service for local traffic increases and provide safe pedestrian crossing locations between the precincts.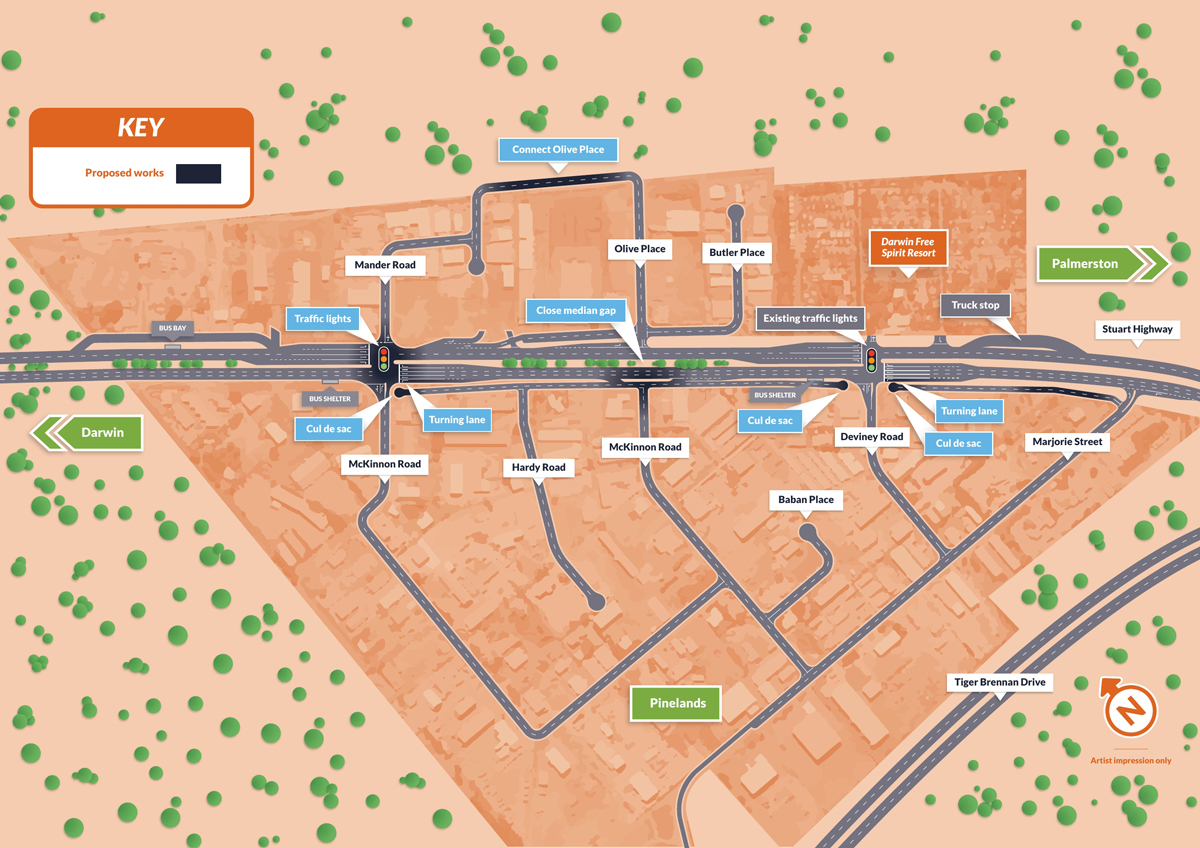 Key features of the proposed solution include:
the introduction of a new signalised intersection where the Stuart Highway intersects with Mander Road/McKinnon Road;
closing of the median gap on the Stuart Highway opposite to Olive Place and McKinnon Road (south);
a new local road to link Olive Place and Mander Road in Holtze
changes to (inbound) Stuart Highway service roads and
provision for turning lanes off the Stuart Highway into Pinelands industrial area which is frequented by road trains and heavy vehicles.
To provide feedback to the Project Team on the concept design, please contact True North Strategic Communication on feedback@truenorthcomm.com.au or 8981 6445.
Community consultation on this project has been extended until 2 November 2018. The project will then move to detailed design.
Download the proposed design factsheet PDF (3.7 MB).
PINELANDS TRAFFIC MANAGEMENT Q&As
Q) Why is Government wanting to deliver these road changes?
Q) Can the design be changed?
Q) What are the current safety issues?
Q) Why haven't we been consulted previously?
Q) What have been the main issues raised during Stage 2 consultation to date.
Q) What will the Government do in relation to the issues raised by the community?
Q) Is the Youth Justice Centre the real motivation for traffic lights at McKinnon Road (North)?
Print all pages in this section
Last updated: 10 November 2019