Gunn Point Road planning study
Gunn Point Road
Gunn Point Road is the main access to a number of very popular recreational fishing destinations close to Darwin, Palmerston and surrounding suburbs including Leaders Creek, the Vernon Islands, Saltwater Arm and the lower Adelaide River.
The road provides access to the Leaders Creek Fishing Base, which is a popular and developing local tourism business offering accommodation, camping facilities, boat hire and supplies.
The road will also provide access to Project Sea Dragon, a $1.45 billion prawn aquaculture project that will generate significant economic and employment opportunities for locals.
The existing road is unsealed and in poor condition and prone to corrugations, dust and wet season closures due to flooding.
The current poor condition of the road is the limiting factor to any further growth in recreational fishing or tourism for the area. The road is currently located on private property and the realignment will ensure it is part of government owned land.
Planning study
The Northern Territory Government has commissioned technical specialist Tonkin Consulting to lead a planning study to inform the concept development for Gunn Point Road and confirm the most appropriate alignment for Glyde Point connection.
The planning study will occur across two packages. The first package of the project is to develop a costed design concept for Gunn Point Road that includes realigning, upgrading and sealing the road to a two-way single carriageway from Howard Springs Road to Gunn Point. Consultation on package one is now open and community feedback is invited until 20 October 2017.
The second package of the project will confirm the alignment of the Glyde Point connector road at the southern and northern end of Gunn Point Road. Community consultation for package two is likely to commence in 2018. To register your interest, please email us.Across both packages of work, the planning study will look at:
connections with the existing road network
future transport networks, including proposed rail and services corridor to Glyde Point, shared pathways and cycle paths
existing traffic conditions
access to abutting properties
estimated cost of upgrading the road
potential impacts on the environment, residents and the community.
The study will take into account potential future development in the area as outlined in the Darwin Regional Land Use Plan 2015 which earmarks future development in this area.
Proposed alignment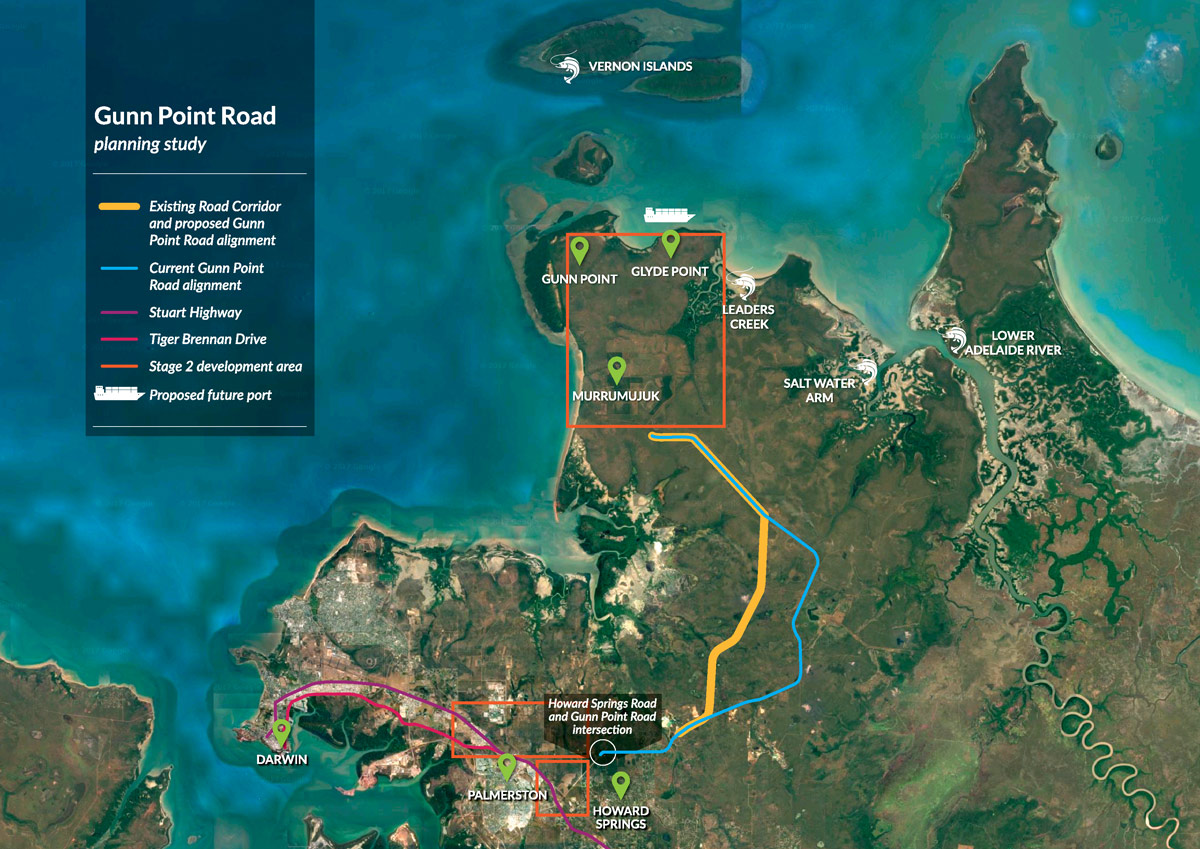 Download a copy of the Fact Sheet (1.7 mb)
How you can get involved
The community and key stakeholders will be consulted as part of the planning study. Community feedback will be used to inform the concept design and confirm the most appropriate alignment for Gunn Point Road.
The consultation period is open until 20 October 2017.
To find out more and provide feedback you can:
Send a submission to True North Strategic Communication at truenorth@truenorthcomm.com.au
Phone 8981 6445 to provide your feedback.
Visit us at an information stall at Coolalinga Central on 14 October 2017 from 9am to 12pm.
Last updated: 28 November 2017