Tennant Creek to Darwin pipeline & infrastructure corridor prefeasibility study
The Northern Territory (NT) Government has commenced studies to identify an infrastructure corridor from Tennant Creek to Darwin.
The infrastructure corridor will consider co-location of a range of potential infrastructure services including:
multiple high-pressure pipelines
services including water and communications.
Consolidation of infrastructure services minimises potential impacts on land that could occur through ad hoc development.
The prefeasibility studies are underway to investigate the viability of a corridor between Tennant Creek prior to further investigations, approval and clearances to secure a corridor.
The corridor aims to facilitate the growth of the natural gas industry in the NT along with supporting other projects that may require a corridor into the future.
Stakeholders will be engaged in stages as the project progresses.
The NT Government will ensure consultation and engagement is extensive, inclusive and thorough.
Project stages
The project is currently in Stage 1, preplanning phase and undertaking the prefeasibility studies.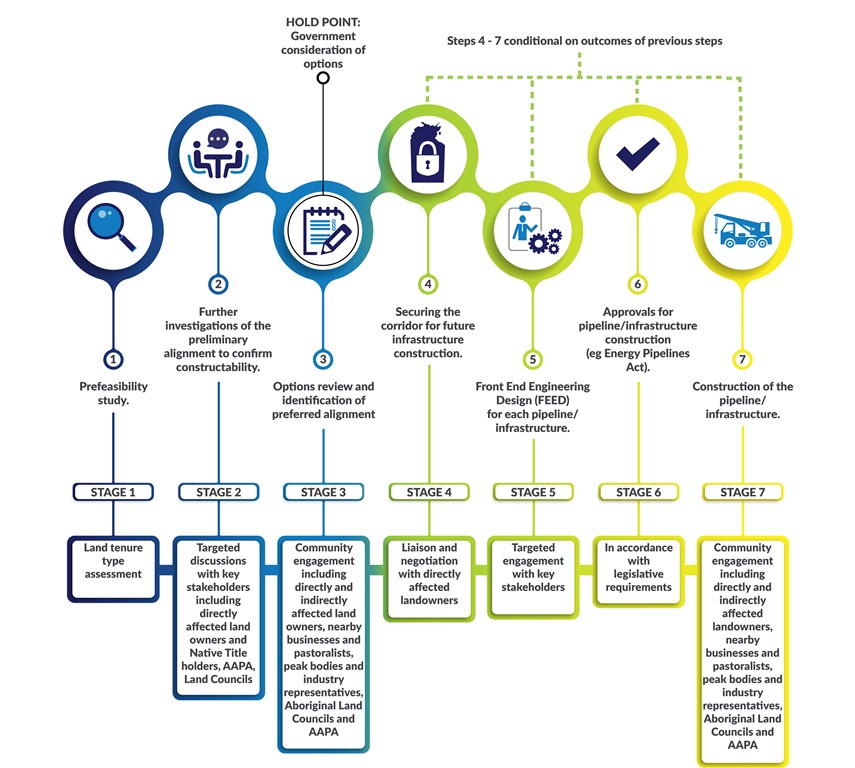 Each stage is described below:
Step/stage 1 - Prefeasibility study.
Land tenure type assessment.
Step/stage 2 - Further investigations of the preliminary alignment to confirm constructability.
Targeted discussions with key stakeholders including directly affected land owners and Native Title holders, AAPA, Land Councils.
Step/stage 3 - Options review and identification of preferred alignment.
Community engagement including directly and indirectly affected land owners, nearby businesses and pastoralists, peak bodies and industry representatives, Aboriginal Land Councils and AAPA.
Hold point: Government consideration of options.
The following steps 4 - 7 are conditional on outcomes of previous steps:

Step/stage 4 - Securing the corridor for future infrastructure construction.
Liaison and negotiation with directly affected landowners.
Step/stage 5 - Front End Engineering Design (FEED) for each pipeline/infrastructure.
Targeted engagement with key stakeholders.
Step/stage 6 - Approvals for pipeline/infrastructure construction (eg Energy Pipelines Act).
In accordance with legislative requirements.
Step/stage 7 - Construction of the pipeline/ infrastructure.
Community engagement including directly and indirectly affected landowners, nearby
businesses and pastoralists, peak bodies and industry representatives, Aboriginal Land Councils and AAPA.
Future use of the corridor
The corridor could be used for pipelines and utilities. The potential width of the corridor will take into account minimum offsets and clearances required for construction, operations and maintenance.
This project is about identifying a corridor that may contain a number of products and services including:
multiple high-pressure pipelines
services including water and communications
New pipelines will be required as Beetaloo Sub-Basin develops as potential gas production will be far greater than the current gas pipeline capacity, even with augmentation.
Consultation
Landowners will be notified if their property is on a preliminary alignment in the next phase of the project after detailed investigations, approvals and clearances. The project team will open discussions with affected landowners at this point.
The wider community will be informed about the corridor as the project progresses through:
further investigations
options review
approvals and clearances.
Prior to consulting on a possible infrastructure corridor, Department of Infrastructure, Planning and Logistics (DIPL) must first undertake due diligence to ensure the viability of proposed options. DIPL is currently finalising the consultation approach for commencement in 2021.
The corridor route
The most cost effective corridor alignment is a straight route as the cost / kilometre for the combined infrastructure is significant.
The 'best fit' corridor takes into account other constraints including the following key considerations:
engineering: elevation, slope, ground conditions and stream / river crossings
environmental: habitat, endangered flora and fauna and vegetation
social impact: zoning, land use, cultural heritage, protected sacred sites and tenure
infrastructure: built environment, utilities and roads.
The final preferred corridor is subject to engagement with all relevant landowners and key stakeholders. Contact will be made with all the potentially relevant landowners that are on the proposed alignment and information provided to the general public about where the project is at.
Safety of proposed pipeline infrastructure
Pipeline infrastructure can be built through most terrain with the appropriate design, for instance the existing gas pipeline retained its integrity in the earthquake in the Tennant Creek region in 1988.
Detailed studies on the constructability of the proposed pipelines have not yet been undertaken.
Risk assessments
The prefeasibility studies will undertake a qualitative risk assessment on the preliminary 'best fit' alignment and risk assessments will continue to be undertaken through the planning, design and operation.
Timing for construction of the infrastructure corridor
It is too soon to predict when the infrastructure corridor will be built. There is a lot more work to be done prior to securing the corridor, and then infrastructure will only be built as need warrants.
---
Last updated: 27 May 2021
Give feedback about this page.
Share this page:
URL copied!