Remote Barge Landing Review
Benefits
The NT Government, through the Department of Infrastructure, Planning and Logistics (DIPL), currently maintains 14 remote barge landings. Barge landings are essential to providing goods to remote communities, including fuel for power generation, food and consumables. They also perform an important function for search and rescue operations. Barge landings are often the only source of freight distribution in remote areas of the Northern Territory, particularly during the wet season when roads are not accessible. A total of 9 of the 14 barge landings service island communities, which have no other form of access other than by air.
Given the importance of barge landings, the Northern Territory Government would like feedback on how the infrastructure and operations could be improved to better support remote communities.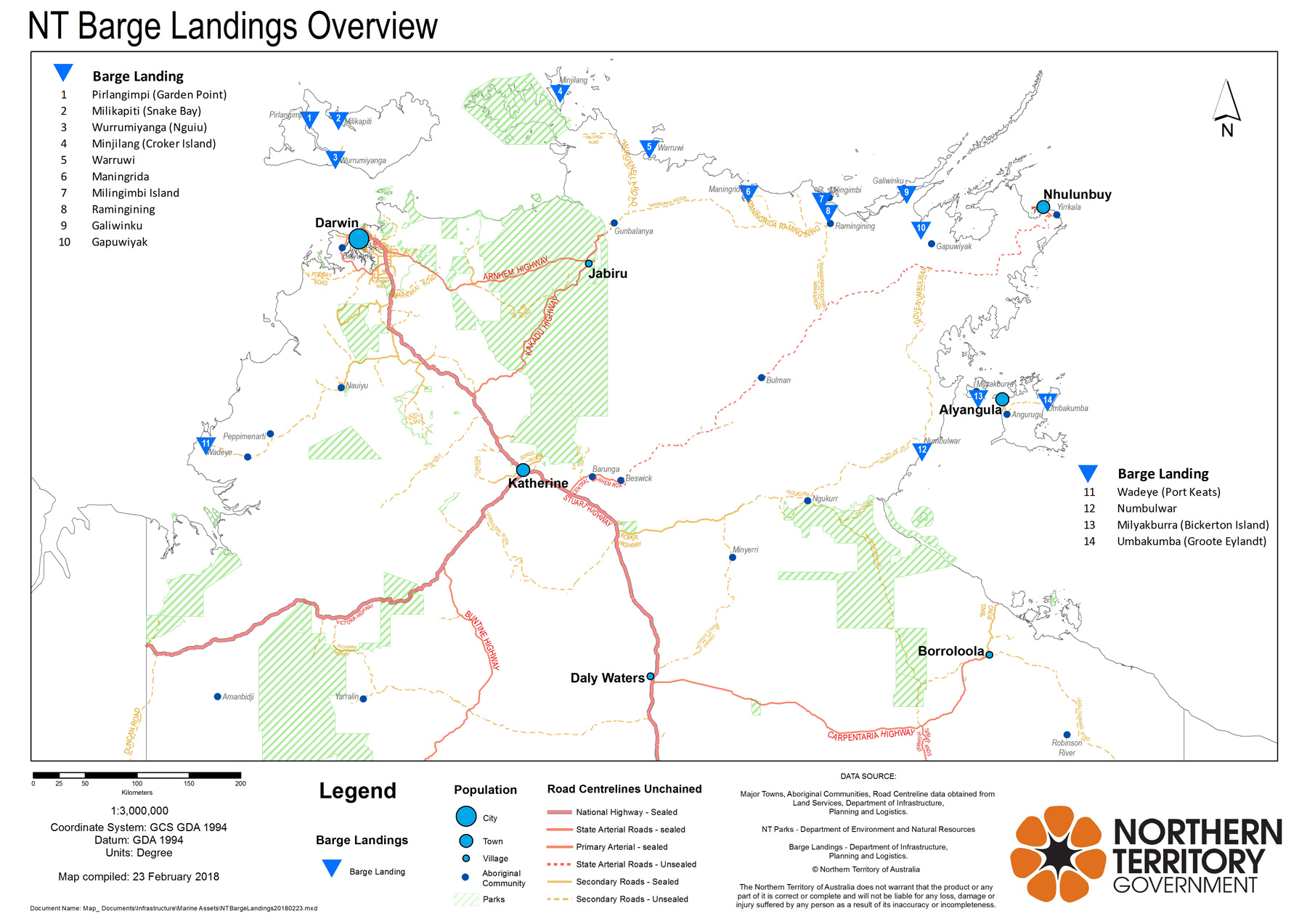 Scope
To improve supply chains and access to remote communities, the Northern Territory Government is reviewing barge landing infrastructure and operations across the 14 barge landings managed by the Department of Infrastructure, Planning and Logistics. A gap analysis will be undertaken of the existing infrastructure and operations to determine what will be required to improve supply chains and access to cater for future needs of communities.
Consultants and technical staff will visit communities to gather information and community feedback. Key stakeholders will also be consulted (e.g. barge operators, stores, NTPFES etc.)
The project is delivered in two stages.
Stage 1 relates to the consultation for all 13 communities, specifically key stakeholder workshops and community information sessions. A visit is also to be made to a 14th community, Wurrumiyanga, to review how the barge landing is operating with the recent upgrade work.
Stage 2 involves updating reporting, preparing concept plans for barge landings that require immediate works and communicating project outcomes to the community and stakeholders.
Project Timeline
Stage 1 consultations will occur in February and March 2018, and outcomes will feed into the Stage 1 Final Report to be provided to DIPL in June 2018.
After a hold period, DIPL will advise when Stage 2 can commence.
Additional Information
A fact sheet PDF (151.1 KB) is now available to download.
Contacts
For more information, please contact Cassandra Buckley or Natascha Spark at GHD on telephone: 8982 0154 or 8982 0195 or email: Cassandra.buckley@ghd.com or Natascha.spark@ghd.com
Last updated: 02 March 2018
Share this page: