Expression of interest for Lot 3017 Giles Street, Katherine
The former Katherine Sports and Recreation Club on Giles Street Katherine will be developed into a four-star quality hotel accommodation.
Expressions of interest for the development closed on Friday 12 November 2021.
The site is Lot 3017, Town of Katherine – a 1.96 hectare parcel of Crown land located at 40 Giles Street, Katherine.
The land overlooks the Katherine River corridor and is within close proximity to the centre of Katherine, and along the only road to Nitmiluk National Park.
Through this process, the NT Government was seeking expressions of interest that will:
redevelop and revitalise the existing site, taking into consideration site constraints and opportunities
maintain areas of open green space and connectivity to the Katherine River corridor
deliver on the hotel accommodation market requirements for Katherine
articulate a vision for the site that positively complements and enhances the built fabric, environment and social character of the Katherine township
contribute to Katherine's attractiveness as a destination and
maximise local benefits throughout the life of the project including workforce development, local jobs, Aboriginal employment and workforce development, local industry participation and investment in and contribution to the Territory community.
The request for EOI documents was released on Monday 9 August 2021 to all proponents that have registered or pre-registered.
Illustrative concept plan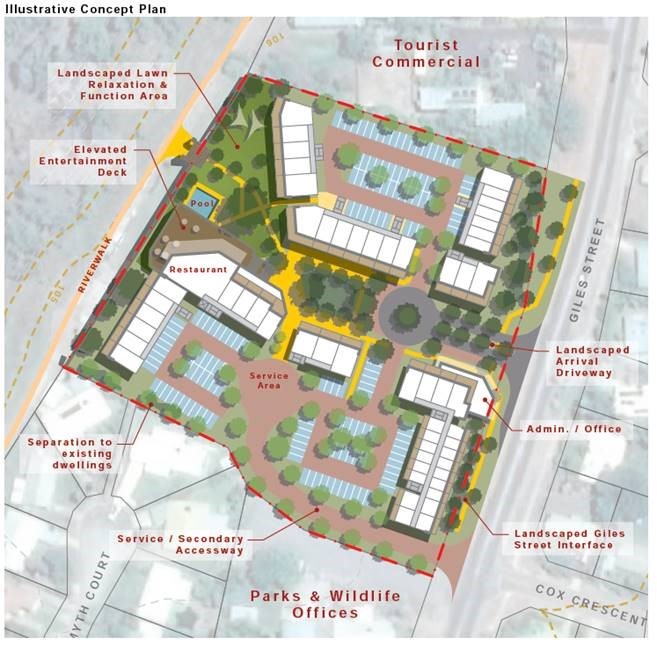 What we are doing
Read the news story.
Contact
Crown Land Estate
Department of Infrastructure, Planning and Logistics
Lot3017.EOI2021@nt.gov.au
---
Last updated: 13 December 2021
Give feedback about this page.
Share this page:
URL copied!