Gunn Point Road
The Northern Territory Government has identified a need to upgrade and realign Gunn Point Road.
The road has a large unsealed section which is in poor condition and prone to corrugations, dust and wet season closures due to flooding.
Some features of the proposed design include:
realigning Gunn Point Road so that it sits within the proper road reserve and is approximately 4.8 kilometres shorter
sealing the road up to intersection of the Leaders Creek boat ramp access road turn off
widening the sealed sections and upgrading the intersections to maximise safety
dedicated right turn and left lanes that are suitable for large vehicles and trailers at major intersections to help improve safety
elevating the road so that it sits higher than surrounding land to improve flood immunity in the wet season.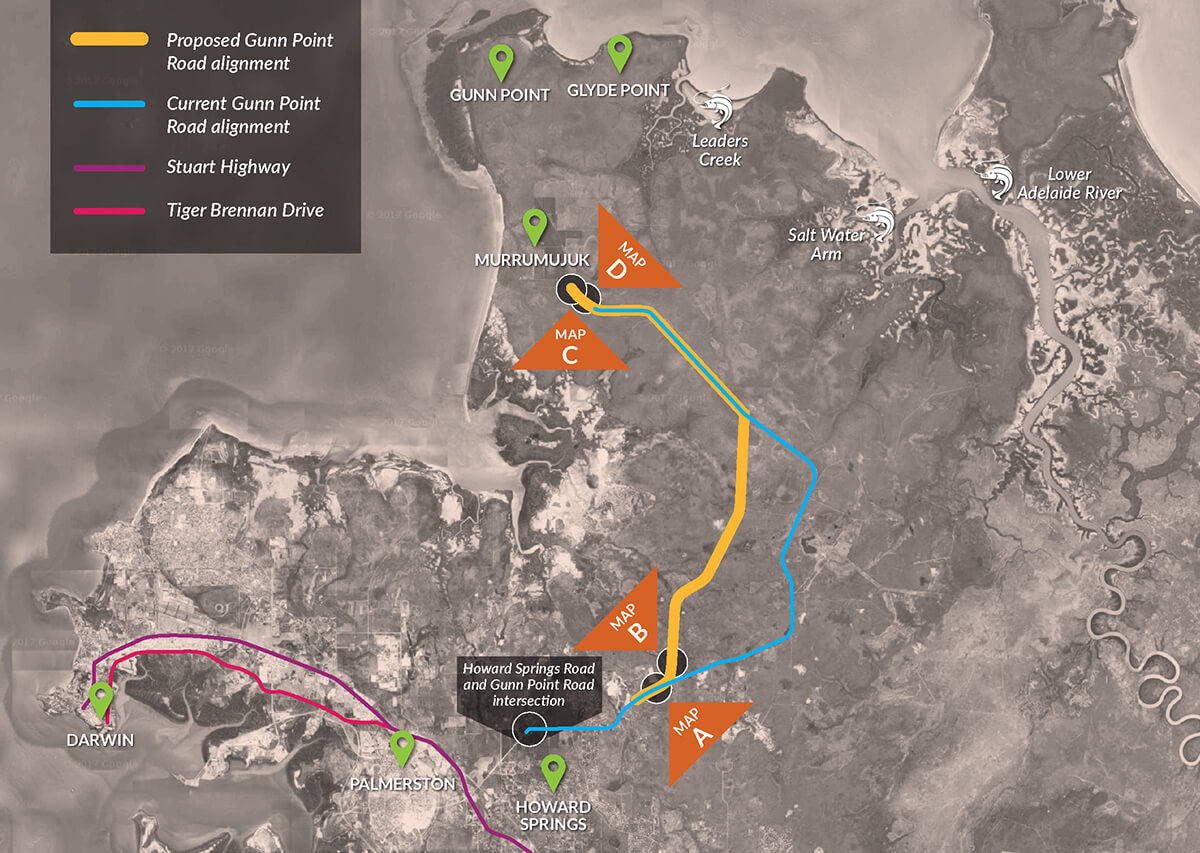 Benefits
Realigning and upgrading Gunn Point Road will help to improve road safety and reduce travel times, damage to vehicles and ongoing road maintenance costs. Improved access to Gunn Point will increase tourism and recreational activity in the area, as well as improve access for the Durduga Tree Point Community.
This project will also help boost the local construction industry and economy, with the creation of more than 300 constructions jobs over 12 months.
Project timeline
Work is expected to commence early May and be completed by December 2018.
The construction program will be carried out simultaneously over three stages and has been awarded to three separate local contractors.
Current work and impact
The construction tender was awarded in early April, with work expected to commence early May 2018.
The first two stages of construction are predominantly greenfield sites and will have minimal impact on motorists. The existing Gunn Point Road will still be open to motorists and operate as normal.
Neighbouring residents may experience an increase in construction noise and dust during construction. Potential noise and dust impacts will be assessed in accordance with the NT EPA environmental assessment process and DIPL policies. Management measures will be implemented such as the use of water carts, restricting works at night where possible, an Erosion and Sediment Control Plan and a Noise Management Plan.
Contact
True North Strategic Communication
Email: truenorth@truenorthcomm.com.au
Phone: 8981 6445.
Last updated: 01 May 2018