Indigenous participation in construction projects
The Department of Infrastructure, Planning and Logistics seeks to provide employment opportunities to Indigenous Territorians, and build the capacity of Indigenous businesses, to successfully share in the delivery of construction projects in the Northern Territory (NT), through the Indigenous participation on construction projects policy PDF (560.4 KB).
To achieve an increase in Indigenous participation, contractors will be required to provide proposals in the tender response schedule to allow for assessment of:
Indigenous employees, including apprentices/trainees directly employed on the works
the intended use of group training schemes or recognised Territory Indigenous community organisations to deliver the proposed works
nominated sub-contractors usage of Indigenous employees, including registered Indigenous apprentices or trainees.
Within 14 days of award of contract, the contractor shall submit a copy of the fully developed Indigenous development plan for approval.
Read the guide for development of Indigenous development plan DOCX (205.8 KB).
Community Development Program
As an employer operating in remote and regional NT, your business could be eligible for Australian Government subsidies and retention bonuses as an incentive to encourage the creation of new ongoing jobs for Community Development Program (CDP) participants.
Read more about the Indigenous employment opportunity - CDP PDF (597.3 KB).
Indigenous Employment Provisional Sum
For applicable contracts awarded between 30 October 2014 to 4 August 2017 only.
The Indigenous Employment Provisional Sum (IEPS) was included in Department of Infrastructure, Planning and Logistics Tier 4 ($500,000 but less than $2 million) and Tier 5 ($2 million and greater) construction/works tenders awarded from 30 October 2014 to 4 August 2017. IEPS does not apply to contracts awarded after 4 August 2017.
The following are the requirements for IEPS claims: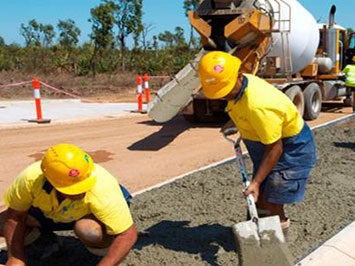 ---
Last updated: 18 May 2021
Give feedback about this page.
Share this page:
URL copied!